On July 2, the Mason NH Zoning Board of Adjustment continued its deliberations of a May 19 hearing. Purpose of the continuation was to conduct a site visit for a variance request. In the meantime, chairman Kelly had contacted the New Hampshire Municipal Association whose attorney suggested that a site visit was part of "open testimony" and the board should reopen that phase of the hearing.
The board agreed. Both the applicants, Mr. & Ms. McDonald, and the abuttors re-interated their opinions, pro and con. The board then went to visit the site at 9 Old Ashby Road. The shed requires a variance for the setback regulations, from both the road and adjacent lot line. However, it has mostly been built already, so very little was left to the imagination.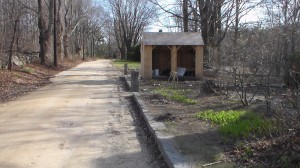 The chairmain reiterated the facts that the shed was mostly built and that the selectmen acting as the Historical Commission had already approved the appearance of it, was not to influence the board's ruling.
The chairman then walked the board through the five conditions that all must be met individually before granting of a variance. You can find those here on page 9. The board voted almost unanimously that four of the five conditions had not been met. It split 2/2, one no opinion, as to whether the shed would reduce adjoining property values.
The board denied the variance. The chairman will issue "findings of fact" which will probably include an opinion that even though carrying wood up from any other location on the property might be inconvenient, much of the board thought that it was not a "hardship condition" as defined by the statutes. Some of the board also thought that there were alternate siting possibilities.
At one point the board secretary, Pat Letourneau suggested that the board could consider granting the variance but with different conditions. However the chairman ruled to restrict deliberations to the application at hand.
Mr. McDonald requested an opinion as to, if the shed was kept mobile, could he use it at its current location for part of the year? Would it still be a "building" under those circumstances? The chairman seemed surprised at the request and neither he nor the board were ready to render an opinion.
Meeting adjourned. The decision may be appealed within 30 days period if new facts that warrant it are brought to light. Otherwise the board's ruling is final.