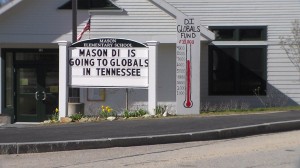 At their April 18, 2016 meeting, the Mason School Board approved Mason's Destination Imagination team to make the trek to the Globals in Tennessee.
Trip is not free, but the district fund raising seems to be going well. Last Monday the thermometor was at $5,000, now approaching $7,000.
You can pitch in by making a donation the school as outlined here. Or sign up for a Mother's Day event (see sau89.org for details).

Of course for this special occasion, Mason's sign zoning falls by the wayside.