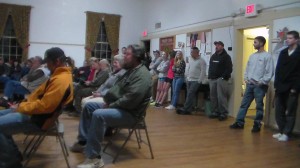 At their March 22, 2016 meeting the Mason selectmen voted to support the following proposed draft zoning ordinance amendment to be presented at a special town meeting after the appropriate planning board hearings for said amendment.
The wording of the amendment was presented to the selectmen by owners of Marty's Driving Range and their attorney. See prior "discussion" of this issue that occurred here.
"To see whether the town will vote to amend Article VIII, Paragraph A.2.c by adding at the end of said paragraph, after the parenthesis and before the period the following"
[Uses Permitted by Special Exception in the General Residential, Agricultural and Forestry District: any use permitted in the Village Residential District plus light manufacturing enterprise, automobile repair shop, service station, recycling center, office building, public utilities (telephone exchange, transformer station, and pumping station)] "and seasonal outdoor entertainment use (limited to three (3) or less events per week from Memorial Day Weekend to and including Columbus Day Weekend, ending no later than eleven (11) PM holidays and weekends and ten (10) PM on weekdays)."
---
Photo: Marty's Driving Range supporters at the selectmen's meeting held in the town hall for the occasion.

The Gazette has presented the entire ordinance as modified, with the italicized section being the warrant item and proposed change.

Article has been updated to include links for prior context.