EVERY HERO Has A Story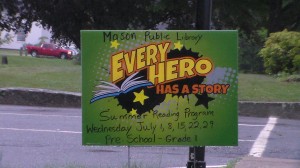 Come to the Mason Public Library
and join in the Fun as we share the stories of Super HeroEs!
Wednesday mornings
July 1, 8, 15, 22, and 29th
Children through grade 1 will gather at the library from 10:30-11:30
To hear stories, sing songs, and do crafts.
Grade 2 and up will meet at the Mason Town Hall at 10:30 to play games and make crafts.
Calling all Lego Fans
August 8th at 10:30-12:00 in the Mason town hall
the Mason Public Library will be sponsoring
Lego FUN Time
Come and explore the possibilities of 10,000 Legos
Thank you,
Mason PL Staff


And just when we thought the sign thing had settled down, more appear. Photo dated 2015-06-15.