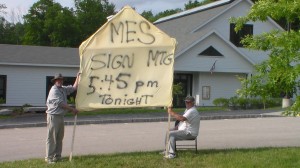 The June 8, 2015 Mason School Board "sign hearing" revealed an interesting test of wills regarding the erection of a "town/school" informational sign on the common.
Selectman Moser and his able bodied assistant Harry Spear held up a mock up of an early design. While it didn't have all the appropriate ornamentation, it appeared to be correctly sized. According to selectman Moser, when they attempted to set up their demonstration at a previously proposed sign location "Mr. McCormick chased us off of the grounds".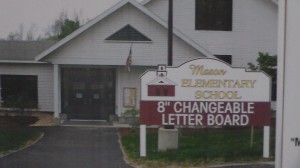 Superintendent McCormick came prepared with what appeared to be a power point presentation and the school board in his pocket. The walls of the multi-purpose room were filled with photo-shopped mock up's of sign and building, one of which is presented here. However, when the Gazette asked for an original, we were told it would be on the web. Since we asked the same question last board meeting and expect a similar result, you might have to make do with our photo. This version appears more modest than the last (however, those concepts were also still on the wall).
There were lots of arguments for and against the sign. No one seemed to ask the obvious question of how much information will be conveyed by two or three lines of text read at 35 mph? The sign was pitched as a town informational asset. Given that even the notice for the hearing printed in the Ledger was more than two lines, and the bulletin board to the left of the mock up is cluttered with many pieces of paper, we respectfully disagree.