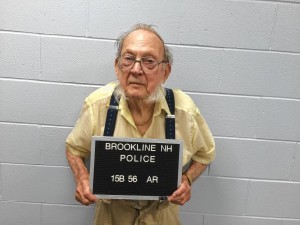 From WMUR:
"MASON, N.H. —Police took a Mason man into custody Saturday night after a standoff shut down Depot Road for hours.
Alfred Stauble, 85, allegedly got into an argument on the side of the road in Brookline, New Hampshire, Saturday, then threatened a man with a gun.
Brookline police officers identified Stauble as a suspect in the crime and went to his home on Depot Road in Mason, New Hampshire, to issue an arrest warrant. They say Stauble refused to come out of his house.
Police closed Depot Road for several hours. After lengthy negotiations, police say they were able to take Stauble into custody.
Stauble is charged with criminal threatening with use of a deadly weapon. He will be arraigned on Monday, May 11."
Mr. Stauble appears to be somewhat of a local character. This is not really the first time the Brookline police have not shared his sense of humor, see Nashua Telegraph "Man 81 pulls gun on Police".
Mr. Stauble is listed as president of Belleview plastics in various online sources.
---
Brookline PD mug shot shameless downloaded from the Monadnock Ledger