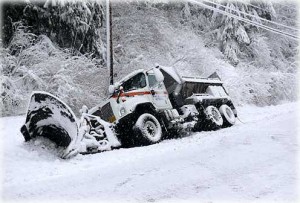 The Mason Board of Selectmen will hold a Public Hearing on the disposition of unanticipated funds received by the Town of Mason to be held on Thursday April 30, 2015 at 8:30 p.m. at the Mann House 16 Darling Hill Rd, Mason NH.
So for those of you that might need a translation, Selectman Moser indicated that according to the N.H. Department of Revenue, the insurance settlement from a crashed truck is unanticipated funds. The sander lost it sliding backwards down an icy Jackson Road. Unclear what that does to the town's insurance rate.
The Gazette hasn't seen a police report since January which might have shed a little more light on the incident.
---
Attached photo has nothing to do with Mason, NH