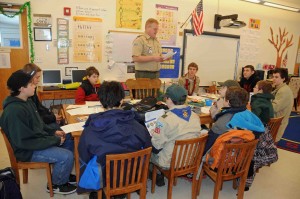 Boy Scouts from New Hampshire and Massachusetts attended the [2015] program, which helps Scouts focus on earning merit badges, especially the more time consuming ones required for the rank of Eagle Scout. Hosted by the Daniel Webster Council, the program helps Scouts meet many of the requirements to earn a badge, while other courses in the program help set the Scouts on the right path to merit badges requiring a significant investment of time, such as the personal management badge, which takes 12-weeks.
The Merit Badge College was held at Mason Elementary School, and was started 13 years ago by Mason resident Ron Dube, who earned his Eagle Scout in the 1960s.
Full story: Union Leader.
Alternate story: Mondadnock Ledger.
Past Events: 2014, 2013.
---
Photo of Leader Don Hodges teaching a class, taken from the Union Leader article.