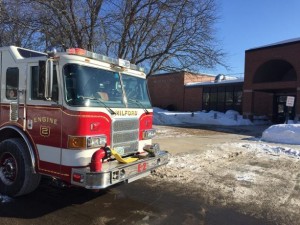 Friday February 20, 2015 Milford, NH – The following is from the Nashua Telegraph. A similar news item can be found at WMUR. The Mason and Milford School District web sites are silent.
A partial roof collapse at Milford High School on Friday morning has cancelled classes for students there.
There were no injuries and students were sent to the nearby middle school. Jodie Gaffney at the Milford Fire Department said that buses were being sent to provide transportation home. The dismissal was only for high school students.
The call to investigate the situation at the school on West Street came in around 8 a.m., according to the fire department. Firefighters and the town's building inspector, Dana MacAllister, were at the scene, according to Gaffney.
Nick Skinner, a senior at the school, said school officials announced at about 7:45 a.m. that there was a problem.
"All we know is they were fearing some collapse," said Skinner. "We were told to follow our normal evacuation procedure."
High school students normally go to the middle school next door during evacuation drills, he said.
There was no collapse visible to observers, though uneven snow load was visible on the flat roof of the high school building. In some places it appeared that the snow was six inches deep, and in other places it was several feet.
---
Photo from WMUR