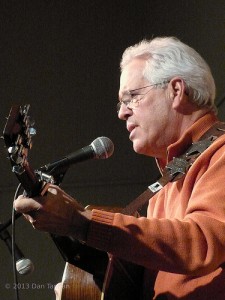 Notice: February 21, 2015 Bob Pope
Notice: New start time 7:00PM
Mason Congregational Church, 33 Valley Rd., Mason, NH.
Bob Pope started learning how to play the guitar in 1960 while living in Puerto Rico. He was strongly influenced by local, Spanish, classical and flamenco guitarists, as well as the '60's era folk boom. He is currently a member of the Monadnock Bluegrass Band, and Folk River Run playing at numerous festivals and gigs thoughout New England. He also enjoys playing in several other local groups, and can be found "pickin' and grinnin" once a month at the Nashua Senior Center, as well as performing solo at several open mics in NH and MA. Bob has 3 daughters and 5 grandchildren, and has lived in New Hampshire for the past thirty years.