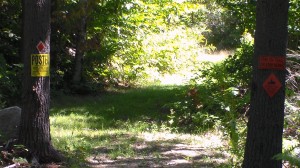 These signs are on NH Snowmobile Trail 13 N. The posting is by a new neighbor; and we might add, sending a mixed message (click on the photo for a close up).
Much of the trail was bark-a-mulched a few years ago by the snowmobilers and we use that section for daily doggie walkies. We are so appreciative of the mulching that we would consider relocation the posted section to our side of the road. Unfortunately, the town has usurped a good hunk of our swamp and we are no longer inclined to risk the "give an inch and lose 10 feet" scenario.
Or in other words, one can only tread on property owners for so long before they become non-cooperative. We're not sure what prompted this posting. We assume the ban applies to horse riders as well.