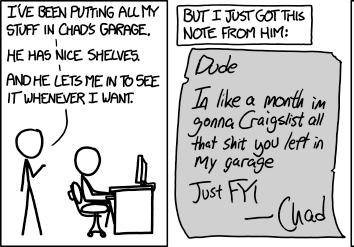 The Town of Brookline will be holding its "yard sale" this Saturday, May 31. Questions, contact 672-8960. Rain date is Saturday, June 7.
The Town of Mason will be holding its "yard sale" Saturday, June 7. Questions, contact 878-2770.
If you would like to participate as a seller, the time to contact either group is NOW. As a buyer, you may have to buy a map and drive around a bit.

---
Cartoon frames from xkcd.com/1150, slightly out of context

Update: Our Recreation Committee has informed us that the Mason Maps are free. We also noticed that "take with you maps" are to be added to the direction signs (at least to the one in our area).

However, you can also print your own from here. Or you may be able to access same from a cell phone; but depending on where you are, reception in Mason is frequently dubious.