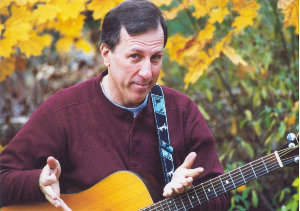 Like acoustic music? Looking for something a little different?
If so, check out Howie Newman at the Living Room Coffee House, 33 Valley Road in Mason, on Saturday, April 19. Newman combines music, comedy and audience participation for a highly unique entertainment experience. His songs, which are suitable for all ages, embrace quirky topics like SmartPhones, middle age dating, the weather, interstellar garbage collection and baseball.
An open mike precedes Newman's feature set, which runs from 8:00-8:40 p.m. A $5 donation is suggested, with all proceeds donated to the St. Vincent De Paul food pantry.
For further information, visit www.thelivingroomcoffeehouse.wordpress.com or call 603-801-7430.
Newman will be playing songs from his recently released live CD, You Shoulda Been There. The album includes "My Baby Can't Parallel Park," which has been aired several times on NPR's Car Talk.
A former sportswriter for the Boston Globe, Lowell Sun and several other newspapers, he'll also perform a tune or two from his latest baseball album, Baseball's Greatest Hits, Volume 2. Newman will be playing a few serious songs as well.
His songs have been heard on 92.5 The River, WBZ, WEEI, the nationally syndicated Dr. Demento show, National Public Radio, The Midnight Special, WUMB-FM and many other stations across the country.
"I do have a serious side," explains Newman, "but for the most part, I like to have fun when I play. And I like to get the audience involved. That makes it even more fun. So it's definitely not the typical singer-songwriter act but I promise everyone a good time. I also promise that they'll see something they've never seen before."
For additional information about Howie Newman, visit his Web site: www.howienewman.com