We again lifted the following story from NewHampshire.com, which seems to be an arm of the Union Leader. Viewing it there burns up one of your "views". See here for a report on last year's event. We're not entirely sure why these things just happen under our noses, but we eventually find them in other papers. No picture this year, bummer.
Further information about the program can be found at Daniel Webster Council, Boy Scouts. Unfortunately registrations are now closed.
2011 Photo by Jessie Salisbury from the Milford Cabinet
---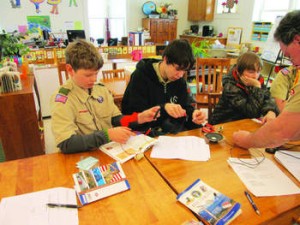 By MEGHAN PIERCE
Sunday News Correspondent
MASON – Saturday was the start of the 12th annual Merit Badge College for Monadnock area Boy Scouts.
More than 100 scouts from the Monadnock region gathered at Mason Elementary School for the opportunity to earn merit badges in subjects ranging from music to aviation.
Kyle Anderson, 14 of Peterborough, a Life Scout from Troop 8, said he just needs one more badge in order to have the 21 needed to be eligible to become an Eagle Scout. He took two classes Saturday, Citizenship of the Nation and Personal Management.
Scout Luke Mabe, 14, of Swanzey, a Boy Scout from Troop 311, is also working toward becoming an Eagle Scout, but he took music and wood carving, because they are interests of his.
Also in wood carving was Trevor Stevens, 12, of Swanzey, a member of Troop 311, who said he enjoyed both wood carving and the electricity class he took.
"I just get focused when I do wood carving. Working with wood and stuff is what I like. I'm a sports guy, so I like the hands-on stuff," Stevens said.
Eagle Scout Ron Dube, 71, of Mason started the Merit Badge College 12 years ago to help scouts along the path to becoming an Eagle Scout.
"It's basically for the Monadnock District based out of Keene," Dube said.
To earn the badges, the scouts have to return two more Saturdays in March to complete the courses.
"If they are diligent enough, they can earn the badges. If they aren't, they don't earn them," Dube said.
Mount Monadnock District Executive Director Carey Kenyon-Ducharme said this was probably the program's most successful year.
About 25 percent of the Boy Scouts in the region attended, as well as some from outside the district.
"We had to cut off registration early. We had a lot of people that wanted to attend and a lot of interest," Kenyon-Ducharme said. "Everyone was very happy to be here. We had a lot of fun learning."