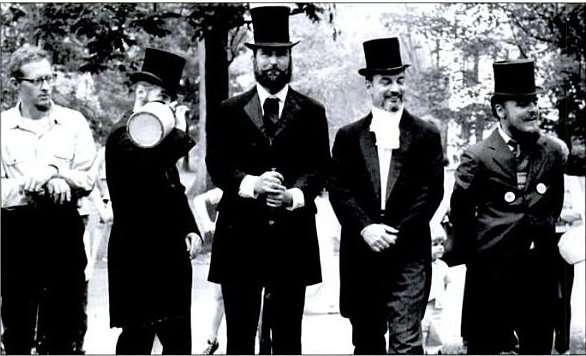 After 46 years of service, Ken Wilson retired on May 28th as Mason's Building Inspector. His responsibilities also included serving as the House Numbering Agent and Deputy Health Officer. Ken is pictured in the above on a Historical Society 1968 Old Home Day photo. And, no, we've never seen Ken wearing a hat.
Eric Anderson assumes these responsibilities. For his contact information, see the Building Inspector page on the town web site.
Congratulations to Mr. Wilson, and thank you for your service and your commitment to the town of Mason!
A catered dinner, chicken pot pie by Chef Deb, was held on Friday May 3, 6 PM, at the Town Hall to celebrate Nancy's (aka Anne Richards, long serving Selectwoman) and Ken's retirement.