Milford Middle School Boys Lacrosse Finishes Undefeated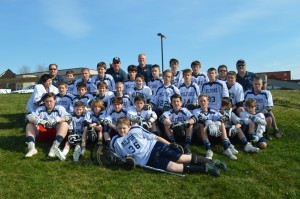 The Milford Middle School boys lacrosse team came into this year with a new focus which paid off with an undefeated season.
The boys went 9-0-1 during their 10-game season. They took out some historically difficult teams, with only one team battling them to a tie all season. They even ventured outside the Middle School division to play club teams and beat the Nashua Blast's top team in an end-of-season-thriller.
Despite being down going into the fourth quarter to the Nashua Blast, the Mighty Titans did not fold. The boys rallied early in the fourth and held on to take the game 12-10 which wrapped up their season on Tuesday, May 31.
"The boys have achieved something very special and something that not many teams can claim in any sport," shared head coach Erich Herbert. "We had some leaders that put the team first and everyone bought in to our system. They played as a unit."
Congratulations to the Milford's Mighty Titans: Front: Drew Hodges (Goalie, recorded Milford Boys Lacrosse's first shutout win) Row 2 L to R: Kyle Forsley, James Gillis, Alex Karski, Brendan Herbert (team captain), Evan Butler, Matt Hannon (team captain), Robert Hess, Ryan Cavanaugh, Jack Sutton Row 3: Ben Kilgore, Greg Gagnon, Corey Girouard, Gavin McDevitt, Jack "Baby" Seale, Chris Freeman, Parker Mabbett, Gavin Urda (team captainand season MVP), Nick Sloan, Braden deGroot, Brody Miles Row 4: Head Coach Erich Herbert, Andrew Herner, Ryan Seale, Samson Hodges, Anthony Viola, Jack Carson, Mason Michalowski, Riley O'Shaughnessy, Trevor Palmer, Coach Todd Boudreau Row 5: Coaches Michael Hannon, Donald Hodges Not pictured: Carl Hamlin, Adrien Houston, Andrew McCartney-Faint.
They set a new standard while representing their team, school and town exceptionaly well. What a special way for the eigth graders to wrap up middle school. The coaches are looking forward to seeing more from these bays as they move to high school.
-SUBMITTED REPORT from the Milford Cabinet by Don Hodges to the Gazette
-Picture from Jeannie Rocca, Milford Middle School