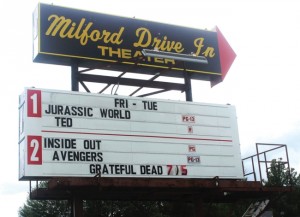 Nostalgia dwells up in our heart whenever we drive past the Milford Drive-In Theater.
However, even if the proposed Mason Zoning amendment were to pass and allow such a thing in Mason; a second and third layer of regulations would probably preclude economic viability.
If you wonder why there are so few "businesses", things to do or places to buy merchandise in Mason, See Artcle VIII of the Planning Ordinances or the planning board's site plan review regulations which may also apply.
Live here, by all means. Work here… good luck with that idea.
Express your view, one way or the other June 7 masonnh.us