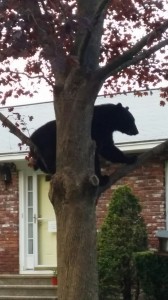 A representative of the assessor's office will be visiting properties in Mason this week and next week. Properties on tax maps J, G, and H should expect a visit soon. (View the tax maps here)
Recently some residents snarled up traffic at Briggs and Townsend by taking photo graphs of the assessor (he's bashful) and apparently treed him in the middle of his work.
In any case, the initial visit is part of the "cyclical assessment" which just verifies data on the tax card. Some time later in the year recent sales prices will be used to re-align the value of every property in town.
Once a new value is sent to you, you may wish to highlight your property's proximity to a previous proposed pipeline, the capacity (or complete lack there of) of your internet connection, the amount of dust you swallow from Mason's finer roads, the effects of newly passed zoning ordinances and any other finer neighborhood features.
---
Photo: Mark McDonald, 2016-05-14