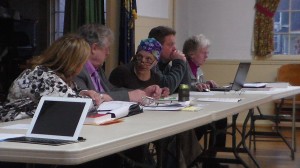 The Mason Planning Board voted to support "seasonal outdoor entertainment" by special exception after the April 27, 2016 hearing for said zoning amendment.
Town Attorney William Drescher opened the discussion by explaining the three ways zoning amendments are initiated: 1) by the planning board, 2) by the selectmen and 3) by petition. Zoning petition articles can only be modified at an annual town meeting, so due to considerations outlined here, the current petition is sponsored by the selectmen.
Selectmen Moser stated the selectmen have offered this amendment "in fairness"; attorney McMartin, representing the petitioners, Marty and Nicole Ruggiero, spoke about the benefits of their proposal to be able to continue offering musical entertainment.
Thereafter planning board chairman Pam Lassen followed a sign-up sheet, allowing Mason residents to speak first, then those from other towns, then anyone with a rebuttal to what had already been said. The hearing topic was a zoning change for the entire graph zone, but most of the discussion pertained to Marty's Driving Range.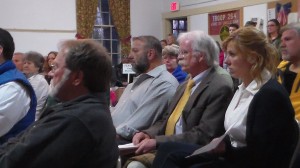 Eight of the Mason abutters to the Driving Range were in support of the zoning change allowing outdoor entertainment. Two were neutral, citing issues that would be addressed if a special exception is granted. One abutter was solidly against, as was one more citizen who is not an abutter in the planning board sense, but to whose residence the sound nevertheless carries.
An on topic comment was offered by newly appointed Zoning Board of Adjustment member Guy Daniello who was concerned that "outdoor entertainment use" could morph into "outdoor motorcross entertainment" and the like. However, an amendment by planning board member Dotsie Millbrandt to change "seasonal outdoor entertainment" to "seasonal outdoor music entertainment" failed. Planning Board chairman Lassen stated that the Zoning Board of Adjustment does not need to grant "a special exception to non-music events" (which is true; however, it doesn't need to grant music events either if the resulting use would be contrary to the standards for the granting of special exceptions).
The special town meeting for Mason residents to approve this zoning change will be posted by the selectmen no later than May 19, 2016. The meeting itself will occur sometime in June 2016, possibly as early as th 7th.

June is such a loverly time for a town meeting.