2015 Mason Warrant Article 13:
To see if the Town will vote to raise and appropriate the sum of Eighty Thousand Dollars ($80,000) to be expended at the discretion of the Board of Selectmen in opposition to the proposed Northeast Energy Direct high pressure gas pipeline, lateral line, and appurtenances, and/or to minimize the impact thereof on the land and people of the Town of Mason, including but not limited to expenditures for legal representation and consultants, land use planning and zoning consultation, public information purposes, administrative and court filing fees, participation in multi-town coalitions, and any and all other expenses reasonably related to opposing said pipeline project and/or mitigating the effects thereof. This will be a non-lapsing appropriation per RSA 32-7, VI and will not lapse until December 31, 2018.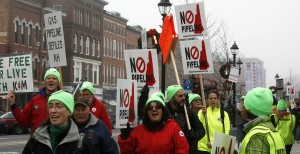 So when we ran across the following NH Public Utilities Commission entries for the Petition for Approval of Gas Infrastructure Contract with Algonquin Gas Transmission, LLC, we scratched our heads. Two intervention statements are entered into its NHPUC record: a 04/11/2016 petition to intervene by Pipe Line Awareness Network of the Northeast; and an almost identical 04/11/2016 petition to intervene by the Municipal Pipeline Coalition.
Mason is a member of the Municipal Pipeline Coalition, but there is no authority in the town warrant to have the town oppose every gas pipeline in New England. We asked Selectman Moser about this situation, he promised to get back to us, but nothing heard from so far.
Today we think we got our answer from a different source. From the Union Leader
Brookline Town Manager Tad Putney, chair of the N.H. Municipal Pipeline Coalition, said the organization of 15 towns will continue its twice-monthly meetings.

"I think there is still an opportunity for the state to take important steps that will protect property rights moving forward," he said, "not necessarily from the Kinder Morgan pipeline, but any future pipeline. I also think the potential for electric utilities looking to bill ratepayers for gas pipelines is another thing we need to be mindful of."
So we expected the unused "opposition funds" to morph into something like a new shed for the highway department. After all, nothing will pass town meeting muster faster than an article that says "funded from surplus" (which is apparently where the opposition funds live).
But in our opinion, joining PLAN and or PLAN-NE to go after Spectra Energy is currently beyond scope.
---
Mason's Bob Dilberger (far left) and the Mason contingent in a photo taken from the Union Leader article