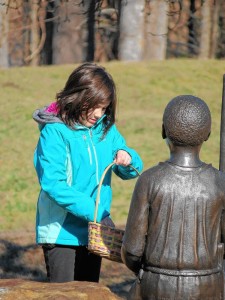 The Mason Recreation Committee sponsored its annual Easter Egg Hunt, Sunday March 20th, 10 a.m. starting at the gazebo. Attached is a photo from said event of Camilla Alton, 10, of Mason sharing her stash with Bode.
The rest of the photo portfolio by Ashley Saari / Monadnock Ledger-Transcript can be found behind the paywall here.

Shouldn't this event have been sponsored by the Congregational Church?