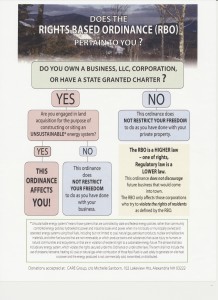 The Mason Pipeline Committee held an informational hearing on March 7, with primary guest Michelle Sanborn of CELDF to talk about the proposed community rights ordinance (Article 14, this year's town meeting).
Michelle described CELDF as a non-profit public law firm; they do not charge for their services, but the client has to pay filing fees (and not mentioned, probably any potential settlement against the town).
The presentation was two hours long, outlined the structure of the ordinance and still going into the mechanics of town meeting when we left for other commitments.
"The community might be unwilling to enforce the ordinance which is why residents are enabled" she said. Also the "definitions, [which are the heart of to whom the ordinance applies] can be amended at town meeting."
Other posts pro and con can be read by clicking the appropriate links. Click on the photo to try to read the fine print.

Aha! How about putting "aerial acrobatics" on the list of things that disrupt our right to "peaceful enjoyment of our homes"?