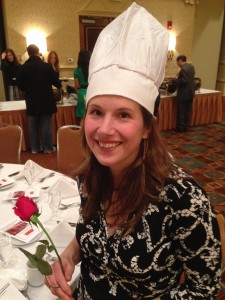 Susanne's proud parents sent us this picture of her graduation from the Cambridge Culinary School in January 2014. They updated the Gazette on some of their daughter's recent activities.
"Martha Stewart is going to feature the Cambridge Culinary School on an episode of her new show, Martha Bakes. Susanne applied to be on the show and was chosen to appear! Susanne graduated from the school in January of 2014 and is a French Pastry Chef. She currently works at Finesse Bakery in Manchester, where she bakes many different French pastries.
She made the pastries for Nancy Richards' and Ken Wilson's retirement party and I know everyone enjoyed them! When I was still working, I would bring in samples to the town office from her baking for her classes at the CCS. Marty and I became "taste testers" for her Finals baking while we were recovering from our accident at her home. It was a "hardship" eating croissants, eclairs and various cakes and ganaches but we did our best!

Martha Stewart has been her idol for a long time so this will be very exciting. The filming is on March 3rd at Martha's house in Bedford NY where Susanne will have lunch with Martha first, before baking! I'm not sure when it will be telecast but it's on PBS."