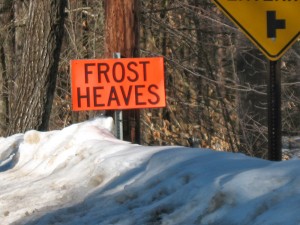 In an article in Monadnock Ledger (in the second 1/2 of the story) it is reported that a heating pipe let loose in the Mann House during the last cold snap. According to Chairmain O'Grady "the thought is that it happened because the building is old and the insulation poor". You betcha… and just maybe somebody saved a nickel by not replacing the antifreeze in the system the last time the circulation pump was tinkered with?
We had our own set of woes with a water pipe inside an exterior wall and did manage to free things up without burning the place down… we don't like antifreeze in our tap water, so at least that freeze was a little more rational.
However, speaking of water, we recently observed the phenomenon pictured below along a restored two year old member of the "5 year road plan". The road agent position being open at the time, this section was implemented by a contractor under under the supervision of the selectmen. Pointing out the obvious, that they were widening the road and not addressing the ditching issues, just resulted in a "we just do what we are told" response at the time construction was underway.
So now the water is eating away at the sides; and, in other locations, the water under the road will soon result in a few "frost heaves" signs.
Our significant other suggested we add a duck to the brook for interest sake; but being already chuffed by the selectmen's response to an NBC offer to share wifi and town communication facilities on their proposed dopplar site (see first part of ledger article), we thought the better of the embellishment (click on the photos for a better view).