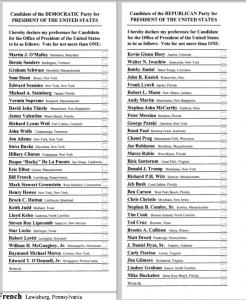 The NH Secretary of State has published the ballots for the February 9, 2016 primary. The order of the candidates on the ballots seems to vary from town to town. If you are not from Mason, or you can't read our screen capture even after clicking on it, we suggest you visit the state site for your specific ballots. With the large number of candidates on both ballots, finding the major ones can be a bit of a chore. Mason's ballots are shown here; the candidate order seems to be pick a letter and then order alphabetically by last name, starting with that letter.
The presidential primary is scheduled for Tuesday, February 9, 2016, at the Mason Elementary School, polling hours are from 8 am to 7 pm.
If you are an independent you can pick either ballot (but don't forget to change your party affiliation back to independent after voting). If you have registered to be a Democrat or Republican, either deliberately or by accident, the only choice is the appropriate ballot as it is now too late to change party affiliation for this season.
For absentee ballot information, see the town web site.