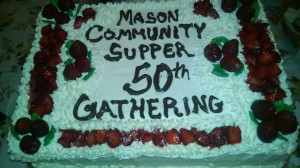 Photo of the cake at the 50th Community Supper was forwarded by Connie Lacasse, thanks Connie.
We weren't sure about the correctness of snatching a photo so we reduced its resolution to 1/4 of the original size. This solves a couple of issues, faster download, potential copyright, etc.
We really like the strawberries. Since they're probably not in season in Mason this January, its probably an indication of the global economy where some countries are actually happy to export products even if the local price of strawberries goes up. Either that or California is really warm this time of year or someone has a heck of a greenhouse.