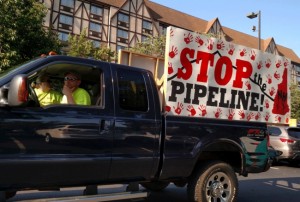 The Gazette recently found this photo from a December 27, 2015 Nashua Telegraph article (warning paywall).
So what caught our attention is the FX4 Off Road logo beneath the pipeline sign. We've been told that energy conservation will save us from our excessive energy needs. Yet here's this truck protesting cheap energy.
"Originally Posted by dbc001… A 400 hp, 800 ft p of torque, diesel guzzling, 8000 lb, tire eating, 22,000 lb hauler, a$$ whooping tractor pulled, cast pig iron, truck named ….." another site said of the same model truck.

The irony is obvious right?