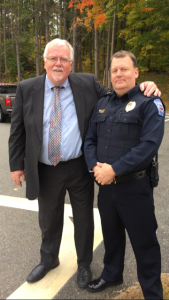 At the October 18 school board meeting, the board once again took part in the great e-rate check receiving ceremony. E-Rate is a special reduced rate for internet connectivity that is available for schools and libraries. The reason why Fairpoint implements this as a refund instead of just a reduced rate is probably something that only the bureaucrats at the FCC in Washington D.C. can love.
In any case the Superintendent indicated that main internet trunk coming into the school no longer had enough bandwidth capacity. He was in the process of contacting with police and town departments to see if they would like to share in his solution.
As of the November 17 selectmen's budget hearing, that contact had not been publicly acknowledged. The police department came forth with its own proposal to "wire" the inside of the police station. Apparently the wireless routers in that building are bandwidth debilitated; and in any case, a "wired" install presents less security threats than the "wireless" variant. No one asked the question as to why so few police employees exceed their connectivity bandwidth, while the routers in the school are so finely tuned to support a whole classroom. Apparently the trunk and not "wireless" is the low pole in the Mason Elementary tent.
At that same budget meeting the town clerk updated the selectmen on plans to resolve her own internet saga. The NH state department of motor vehicles has pulled a bait and switch and will no longer be paying for the special internet connection that it once provided for the town and convenience of its citizens. If online car and boat registrations are to continue, the town will have to spring for a "virtual private network" (VPN). Fortunately VPN is only software and will run on the town's internet hardware. Unfortunately if one selects the wrong VPN provider there are never ending annual lease and maintenance costs; renting model is now the wave of all software since the vendors can't make enough money by just selling upgrades of their products.
The town highway department has no computer issues. According to Road Agent Lizotte, much of their computer gear was left plugged in during last fall's lightning festivities and as a consequence much of their gear was fried. There went the road inventory data base?
---
Photo: Mason Superintendent McCormick and new best buddy, Mason Police Chief Kevin Maxwell taken from a town site.

Phones, don't forget the phones! May the best IT department win.