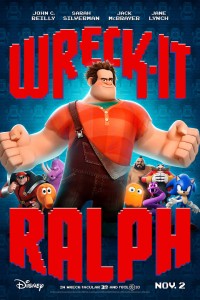 Today we received our first auto e-mail that keeps us abreast of happenings at Mason Elementary School.
"Just a reminder that tomorrow night, Friday, November 20th is Monthly Movie Nite! with Mr. Rick and Company. The movie will be "Wreck-It Ralph" from 6:00 to 8:00pm. Hope to see you there!!!!" it said.
So here we are, an old curmudgeon, wondering what's the motivation? The cynic in us notes that "Mr. Rick" is the custodian and the extra night time hours are an extra benefit for doing good things for the kids.
Our cynicism would be greatly reduced if Mr. Rick offered monthly classics directed by the likes of Ingmar Bergman and such. "Wreck-It Ralph" just doesn't do much for us; however, we don't know how much "cult movie" demand exists in Mason.
Our immediate movie cravings can usually be satisfied by Netflix, Amazon or whatever. Yet there something more romantic about sitting in a smoke filled room with a bunch of other folks that online viewing at home just doesn't provide.