At their Monday November 16, 2015 the school board accepted a $10,691.00 REAP grant as unanticipated income. This grant is "unanticipated" every year, and the chairman did not open the hearing to public questions, creating possibly the shortest approval hearing on record.
Of more consequence was the superintendent's first draft of the 2016-17 school budget which is up 4.95% or 6.78% depending on whether or not a newly added full day kindergarten remains in the budget. The 2015-16 budget was $2,950,683, 2016-17 is drafted at $3,096,621 or $3,150,677.
The superintendent made much of the fact that a large part of the budget is tuition cost and the $160,053 increase is not directly under his control. Tuition total is a matter of a town approved fee schedule (that started low but rises at 4% per annum), and actual number of students. We've attached a graph of published student counts to show what the superintendent is grousing about. The graph has only a few data points since numbers were not publish for October 2012, and only published in the aggregate for 2011. However what is there clearly indicates a low count grade 10-12 population being replaced by a high count grade 3-5 as the lines on the chart shift to the right every year.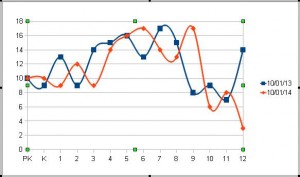 From the graph (vertical: student count, horizontal: grade level), student population increase is not a one year phenomenon as the bulge moves forward. The mathematicians in the house may wish to estimate future impacts (we don't think the $20 census enumerator line item will cover analysis properly; however the state employs staff to do this).
One might also notice that there is a drop in numbers of students at the high grade levels, some of this is normal population fluctuation (these numbers are only precise on the day they are taken) or it could be a sign that parents are again voting with their feet when it comes to high school education. We leave that for the experts who might need more than two samples and conduct actual exit interviews to analyze.
What is under the superintendent's control is the $54,056 addition of full day kindergarten costs. Last year's kindergarten proposal was in the form of a special warrant article which was defeated. This year the superintendent is taking a new approach and including full day kindergarten in the proposed budget. So the only way the taxpayers can "vote" to approve or not approve it is by showing up at deliberative session to adjust that line item or by voting up-down the entire budget (a default budget would not have a full day kindergarten).
The attendance at deliberative session is typically less than stellar. In business manager Mr. O'Neil's absence, the "default budget" was not presented at this board meeting. For those of you new to the SB2 process, a "default budget" is "last year's budget plus contractual obligations". Tuition costs (going up) and building bond payments (going down) are "contractual obligations". With one being significantly larger than the other, one can safely assume that the "default budget" might be higher that "last year's budget". What's not clear is whether the other adjustments in the proposed budget will offset the tuition and kindergarten increases; however, the school board has yet to weigh in and all may change.
We hope the board conducts most of this business in public; however if the almost constant executive sessions for hiring, firing and salaries (which happened again this meeting) are any indication, we're not optimistic.


Sometimes SB2 can mean more work.