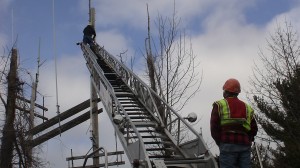 At the September 8, 2015 Mason Selectmen's meeting the selectmen gave conditional approval for a field test for a wireless service of some sort. We say "some sort" because the selectmens minutes are not exactly clear.
Reviewed email from Steve Kropper regarding access for temporary communication tower on the rail trail. This will be forwarded to Conservation Commission. The Board is ok with allowing access once the Conservation Commission reviews it and gives their permission.
In an attempt to quantify this with published public sources, the Gazette ran into a spot of trouble. First off the September 8 minutes were not posted until November 8 (after much prodding on our part), the September 22 minutes still not posted, the unannounced (on the web) November 3 minutes were approved last night with redacted comments, soon to be posted…
Simlarly the last Conservation Commission minutes posted on the town web site as of today are from July 22! However, commission member Liz Fletcher was a little more helpful and provided a copy of that board's September 9 minutes:
Discussed request for access to RR trail in Russell-Abbott for demonstrating satellite-based radio access. Access was requested by Parallel Wireless on behalf of Milford-Area Communications Center (MACC) for a four-day test. Agreed to allow access on the condition that the property is left in the same condition as found and in particular any damage to the trail is repaired.
The irony here is that the conservation commission resoundingly rejected a slightly longer "temporary no electronics" project on Eaton's Hill which would be an ideal location for any antenna. Not to mention the giant fiasco that occurred when a different wireless provider attempted to attach a small patch antenna to a ham radio tower.
This may be part of a MACC base public communications field trial or something else.
Email's to both the selectmen and police department have gone unanswered for at least a week. On the Gazette's part, we are disappointed that the town's web pages are touted as a source of information when frequently notices and minutes are not timely if they are posted at all.

And no, we won't waste gas to drive downtown just to read the numerous mechanical signs.