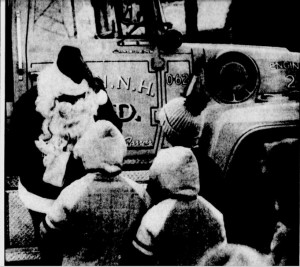 A November 5, 2015 posting on the Mason NH School District site brought back fond memories… until we got the the part about "Cost: 10$/family, photos will be edited and emailed to you along with permission to duplicate".
Whoa… times have changed.
Picture in this post is of Santa (aka Andy Ruoff) handing out free candy from Mason Fire Engine 0-62 cloned from a 1987 edition of the Nashua Telegraph (graciously snarfed from Google for online viewing… ).
Those were simpler times.


We at the Gazette are shameless.