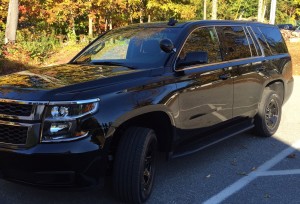 There have been a few updates to Mason's Police Department web site, one of which proudly displays the new cruiser. According to information gleaned at the October 27 selectmen's meeting, the delivery was delayed and the town got the next model year as a consolation. The selectmen also made the first payment.
We think the cruiser is in service because we recently saw it pull over an unsuspecting car with Massachussetts plates at the awkward Y intersection at Starch Mill – Wilton Roads. The blinking blue light show emits from inside the vehicle; there is no "light bar" to distinctly identify it as a cruiser. Other than a designation on the plates, this vehicle will be hard to spot. Probably a good thing for enforcement purposes.
In other related news, the selectmen pointed out that the police station will soon be paid for. This will open up funds for the highway barn problem. To that end, a surveyor has been hired to map where the buildings and a right of way that goes through the middle of the highway/fire department lot really are. Chairman O'Grady thought that replacing the myriad of buildings down there with one massive steel building would be good fodder for the building committee here for a schedule.

So lets see, every year a capital warrant article is replaced with another one? Since special warrants never seem to go away why not roll them into the budget and call a spade a spade?