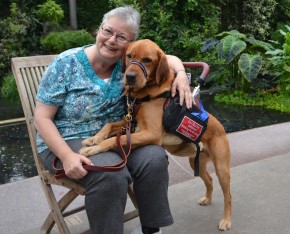 Many, if not most of you know Cindy Tibbetts. She worked as a nurse, and also served our community as an EMT–until a still undiagnosed malady descended on her. She has an unremitting seizures for the past 3 years with all kind of tests, hospitalizations, and yet more tests. Various medications have been tried, and still she continues to have seizures.
Her amazing spirit, and good nature have triumphed to keep her from sinking into helplessness, but now we have found a way to help! She could clearly benefit from knowing when she is about to have seizure so that she can be protected from a disastrous fall. Service dogs have the uncanny ability to sense the onset of a seizures, and Cindy has worked with an agency that can provide a dog for her.
That's where we come in. You can go to the GoFundMe site to give, and they do take out a small fee-for-service, or you can give to the Diaconate Fund at Mason Congregational Church, with a notation that the check is to be directed to Cindy. All the funds directed to the Diaconate will be fully deposited for Cindy.
Thank you to all of you. Please post this on your own Facebook page in case there are others who might like to contribute!
Michelle
---
Editor note: photo is not of Cindy, but from one of the organizations that provide such beasts. About 15% of dogs do this naturally, but it helps if they are carefully selected and trained.