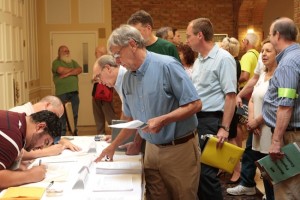 We recently found this rather interesting quote in the Nashua Telegraph made during Wednesday's first NED "scoping session".
Mason Selectman Louise Lavoie had a further concern relating to the recent Kinder-Morgan filing: "FERC's website traffic has been overloaded, resulting in limited access to the documents. Slow down this process."
Source here.
So let us put that into some context for you from the perspective of someone not privileged to work for a company that provides highspeed internet for their employees (as apparently Ms. Lavoie's employer does). News flash Selectman Lavoie: there are still folks who live in Mason whose only viable internet option is dialup or latency loaded/data capped satellite.
This is compounded by the fact that the FERC documents of which she speaks are numerous and huge. According to mason-nh.org the original total is over 1GB in size. The owner of that local site has cleverly dodged various bandwidth and cost limits by refering you to www.nofrackedgasinmass.org. Unfortunately those are the March 2015 versions; if you want the July versions, you'll have to wait for updates or go direct to "the slow" FERC site.
And blaming a web site for a required proliferation of environmental reports may be addressing the wrong problem. Even nofrackedgasinmass puts this disclaimer on their posting:
Some of these files are VERY large. Please give them many minutes to load and show up on in your browser.
So FERC is not the only site that has bandwidth issues. And we might add, the receiving end of the pipe (your internet connection) could be blamed equally.
Other internet news
At the July 27 selectmen's meeting, Selectman Moser reported that he had requested TDS to pay for town counsel to review their incumbent service provider premission contract for the north end (see prior story about what TDS is all about here). According to Moser, the TDS representatives response was "no one has ever asked us to do that… let me talk to my manager". Or, long story short, the TDS wires are up; it's the political caution to activate them that's "slowing things down".
But back to what matters to us, bandwidth. The latest proposal by Fairpoint to provide internet service to the rest of us in Mason fell on deaf ears.
We are starting to sympathize with how a buggy whip manufacturer must have felt when trying to increase production efficiency for his product. "Oh those Henry Ford things, don't worry about them; they break down all the time and there are no decent roads to use them on". But that's another story; and don't worry about that "internet thing".
---
Photo by Don Himsel of the Nashua Telegraph staff. The two rightmost people at the Nashua FERC scoping session are Mason Selectmen Lavoie and Moser (yellow arm band).