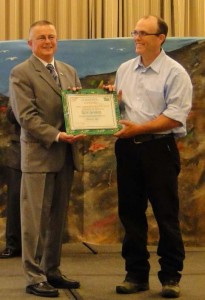 EPSOM, NH – The School CLUB of Northeast Resource Recovery Association (NRRA) is pleased to recognize Rick Griffith of Mason Elementary School of Mason, NH with the "2014-2015 NH Facilities Staff Recycler of the Year" Award.
Facilities Manager, Rick Griffith is proud of the green building techniques used at Mason Elementary such as: reclaimed and reused materials, flooring made of recycled materials, energy efficient lighting fixtures, energy saving heating sources that produce ash that is biodegradable and used to fertilize the grass.
Due to all their recycling efforts, Mason Elementary was able to eliminate all dumpsters at the school. Mr. Griffith goes beyond this by offering free movie & popcorn nights for the students. He rewards the students with "Rick Bucks" for doing good deeds that are observed and reported by others. He even has a small shop where the "Rick Bucks" can be used to purchase small items.
He was recognized for fostering a generation of caring, environmentally conscious students.
This award was presented at the NRRA School CLUB's 6th Annual School Recycling Conference and Expo on June 9th at the Radisson Hotel in Manchester, NH. The Conference & Expo was a great opportunity for students, teachers and administrators to network and learn more about school recycling, to expand and increase the efficiency of their programs, to add recycling education to their curricula, exchange ideas, share philosophies, and further promote waste reduction efforts.
Special thanks to NH the Beautiful for sponsoring the School Recycling Conference and for their continued support of school recycling in New Hampshire.
---
The entire NRRA press release can be read here. The Mason Elementary School received a similar award for their participation which can be read here

Thanks to the school district's web master for submitting these articles and her nice comments about "Mr. Rick". Seems he's more than just a facilities asset at the school.

Rick is on the right in the photo.