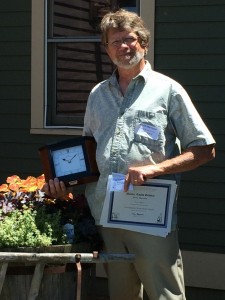 Dave Morrison was presented with a beautiful clock and certificate at the Master Roads Scholars graduation luncheon held at the Common Man Restaurant in Concord on June 24. A Master Roads Scholar has completed 100 hours of technical support and training in a variety of areas.
The New Hampshire Technology Transfer Center (T2) held its first workshop in May of 1986, with over 1,300 workshops being offered in the 29 years that have passed. In that time, more than 6,100 people have attended at least one workshop. This demonstrates that each of these individuals is actively working to improve their career performance and wishes to enhance their personal and professional development through continued training.
T2 primarily serves Public Works Directors, Road Agents and municipal officials concerned with local roads, along with others in public and private road-related organizations. Annually, the T2 Center publishes a directory to acknowledge those who have earned an achievement level among Roads Scholars. Congratulations, Dave!
---
Information for this post was sent to us by Deb Morrison, town clerk and tax collector. Dave previously spent many years working for the Mason Highway department, everything from junior schlep to Grader Operator. Dave graciously retired from the Town of Mason during a less than ideal environment.